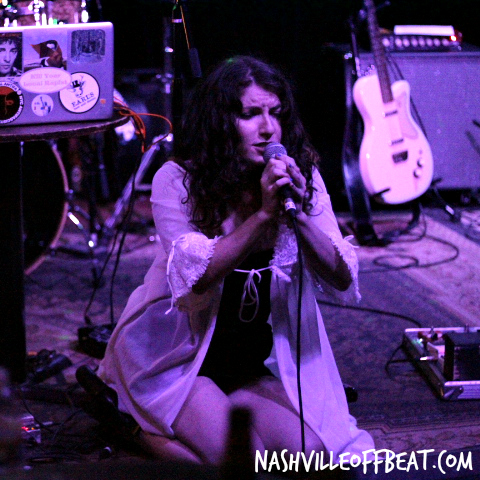 MIMA GOOD AT THE BASEMENT
Mima Good. More like, Mima is SO Good! Touring from New York, Mima seemed to have made a wave of new fans on Wednesday, June 28th, at The Basement with her dark and stormy soul voice, mixed with electro pop beats.

For her first song, she sat on the floor at the front of the stage, singing to a track playing over the PA from her laptop with the confidence, and a little bit of the awkwardness, of Lana Del Rey. As her set went on, it became clear that she is not your regular performer. She both performed, and wrote with no inhibitions. We all have that voice in the back of our head that says "I want to do this, but maybe it's too bold." Mima just goes for it! If the music calls for laying on the floor, or dancing like no one is watching, she does it. If the lyrics call for sex, or murder, she sings them!
As Mima's set went on, she rocked a key-tar, got the audience snapping their fingers, and all-around demanded the attention of every person in the room. Her music can be dark, and may not be for everyone, with songs about "reproductive labor under capitalism," but for those who find her and love her, that love will run deep.
Overall, the impression that Nashville Offbeat got was that Mima speaks up for all of us who want to say something, but hold back. And seeing her live was an awesome experience! Check out her tour dates and see her when you can, but in the meantime, you can find out more at: www.mimagood.com. And don't forget to follow her on Instagram and Facebook as well!
Blair Baker to Play HAMLET in Gender-Bending Adaptation at SheNYC Arts
Blair Baker will play Hamlet in a gender-bending adaptation at SheNYC Arts. The new play adaptation by Tatiana Baccari and Wednesday Derrico will run at the Connelly Theater this July.
Our Hamlet comes home from college to find her father dead. Hamlet's aunt Claudia, leader of her bra-burning feminist followers, seduces Gertrude, topples the patriarchy, and steals the throne. With the help of her best friend Horatio, Hamlet embarks on a quest to prove Claudia's guilt and avenge her father's murder. Hamlet becomes unhinged as she battles the waves of pressure from her royal family against questions of her own identity. With tension between the gender-fluid millennials and Claudia's second-wave lesbians building in a country rife with internal violence, what will become of Hamlet and Denmark's new feminist ruling class?
HVMLET uses Shakespeare's original text to tell the story of two factions of feminism splintered by generational divides.
The show will star Blair Baker (Hamlet), Elizabeth A. Bell (Gertrude), Lynn Berg (Polonius), Susan Bombacie (Gravedigger), Mark Hawkins (Ophelius), Montana Lampert Hoover (Rosencrantz), Will Hutcheson (Voltemand/Player King/Messenger/Captain), Reginald Keith Jackson (Bernardo/ Fortinbras), Artrece Johnson (Marcella/Player Luciana/ Osric), Kevin Kuhlke (Ghost), Jackie Maruschak (Claudia), isabella mehiel (Horatio), Shannon Spangler (Lead Player/Cornelia/Doctor of Divinity), Rachel Whiteman (Guildenstern) and Kristin Winters (Laertes).
Both Tatiana Baccari (Adapter) and Wednesday Derrico (Editor) will direct HVMLET, with Jenn Doun as Set Designer, and Jane Chan as Lighting Designer.
For tickets and more information, visit www.shenycarts.org.
The SheNYC Summer Theater Festival is New York City's only festival devoted to producing full-length plays, musicals, and adaptations by women writers annually. Its commitment to an open submissions process allows it to discover and cultivate the best up-and-coming talent in the industry. The 2017 festival will run from July 6-16th in the East Village's Connelly Theater, and will feature eight new works. Visit www.shenycarts.orgfor more information on the other participating shows, as well as performance dates, times, and ticket information.
Bailey Nolan understands that people, particularly women, are multi-faceted, presenting multiple personalities they carefully craft when they aren't busy playing the many roles society demands. This is why all of her "one woman" shows have multiple people in them, often as many as ten. "Each character is a very relatable part of me," she says. "You take your own history, your own experiences when you're watching something and pick out what you relate to most."
Her latest piece Daughtyr, which was shown at Tryskalion arts center on February 3rd, 2017, was interested in history of a different kind: the use of pop culture to trigger reactions and subvert expectation while still allowing the audience to connect. A review of her last work "Dumbo" in the New Yorker touts Nolan as a colleague of Ann Liv Young with "a softer touch". Her softness isn't inherently represented in her mannerisms or work, but her pragmatism and affinity for tackling responsibility are ever present. She's a self taught seamstress who took ballet classes growing up, but is definitely a writer, an intellect as well as a dancing flesh vessel.
In Daughtyr, which has been retitled Naughty Daughtyr, repurposed materials find their home and a Brooklyn based youth choir are asked to take the stage for the climax of the piece. She set out to forge community with youth and use art as a tool to connect people and has already succeeded. "I'm interested in the next generation, and bringing this collaborative texture outside of the art world."
Again the texture in question is not soft, but there is a sentimentality to the piece, which takes place in a post apocalyptic future. Nolan's affinity for Christmas is very present. "I've always wanted to do a Christmas show which is why partly I choose to weave it into this [piece]. Beyond that, I grew up in a very catholic household and Christmas is a very sinister time in my family. It was depressing and hard and everyone was always fighting. As much as the show deals with women, it deals even more with family and how multiple generations are helping or hurting each other. Christmas just made sense for that."
How we see women, what is the definition of a woman, is a central part of the aesthetic tapestry in which the elaborate costumes, video art installations, and dance numbers of Naughty Daughtyr are woven . The central story of Mothyr, the downtrodden creator of Daughtyr, is a brutal one/ Over the course of the hour long piece, we watch Mothyr, played by gender queer actor Peter Smith, meet their untimely end at the hands of Powyr and Murdyr. Peter, one of Bailey's long time collaborators, inspired the role, which was further developed with intensive journaling and world building one on ones. "Building roles with actors allows them to stop questioning their motivation as a character and empowers them to do, to act, in the vein of the person they are embodying."
Bailey invited actors to use written text as a jumping off point, but to understand that the characters "they aren't you," allowing those involved in the piece real ownership over their voice.
"A transperson goes so much beyond a man wanting to be a woman and I think fitting someone in the role of Mothyr and asking the question what is the role of a mother? How is that person constantly taken advantage of and how does that relate to someone in our community who is trans constantly being taken advantage of or our community constantly placing definitions on them?"
Nolan worked often in earlier productions with the word boygirl, which she says has less definition. She now avoids saying her cohort of artists, babyskinglove, are exclusively girls. "Womyn with a y emphasizes females, but says I'm not necessarily interested in the gender binary that exists. There's more in that definition. It makes you look at the words again and makes you thing why (y)?"
"There's a heavy emphasis on literature, an emphasis on language, to connect to people via language." This is the first piece Bailey has made in the last five years where the audience "didn't really move", but that doesn't mean they don't work. Daughtyr gives viewers many avenues to access heavy handed material: hysteria, violence towards gender non-conforming people, pregnancy, and the apocalypse "so people have to question their expectations of discussion". This puts audience members in a place that's more open in the hopes that they enter into an art space with less preconceived notions."
The next incarnation of Naughty Daughtyr will be staged May 16-18 ,2017 at Jack Space in Brooklyn at 7:30 PM
FEATURING
Bailey Nolan (Daughtyr, Costumes, Choreography, & Poetry) @babyskinglove / www.baileynolan.com
Peter Smith (Mothyr) @ptrsmth
Ariel Ash (Orphyn) @luna.loves.me
Ellen Donnelly (Old Glory & Videos) @forever_stung / www.ellendonnelley.media
Viva Soudan (Powyr) @vivasoudan
Georgia Sanford (Murdyr) @georgiamaxine
Christopher Willauer (War Pig) @christopherwillauer
Cammie Windley-Sanders (Artificial Intelligynce & Headpieces) @lovecammie
Sixth Street Children's Choir (The Future): www.sixthstreetcenter.org
Charley Parden (Photography) @charleyparden / charleyparden.com
Susannah Simpson, Sandy Honig, Olimpia Dior, Renee Manere, Amanda Wallace, Lia Woertendyke, & Ellen Robin Rosenberg ~ Prayers
NAUGHTY DAUGHTYR
7:30pm on Tues 5/16 - Wed 5/17 - Thurs 5/18
An interactive poetic dance play by Bailey Nolan

$25 tickets, worth every dyme!

In Her Own Words: The Diana Tapes
Regional Tour Summer 2017
What Will The Neighbors Say? has announced the regional premiere of In Her Own Words: The Diana Tapes. Written by Co-Artistic Director James Clements, the show premiered at the 2016 Edinburgh Fringe Festival to critical acclaim. This show will open Friday, June 9th at the Social Enterprise Greenhouse Hub, 10 Davol Square, Providence, RI and run through Sunday, July 2nd.
The Diana Tapes presents the true story of one of the greatest media scandals in British history - the publication of Andrew Morton's book about Diana, Princess of Wales, which ended her marriage and shook the monarchy to its core. The play moves swiftly between the publisher's office, the sitting room where the Princess recorded her darkest secrets onto cassettes, and the dingy West London cafe where one of her best friends surreptitiously handed them over. The subterfuge and deception are brought to a terrifying climax that changed celebrity, privacy, and the Windsor family forever. This summer, with the 20th anniversary of the Princess' death in August, the WWTNS? team feels that this powerful story needs to be told. The production gives voice to a woman so often defined by images and archetypes, and instead presents her complex and multifaceted reality.
The Scottish premiere was featured in the Daily Mail, The Evening Times and the Scotsman, in addition to STV and BBC Radio, and was shortlisted for the Holden Street Theatre Award. WWTNS? is thrilled to pair with the SEG Hub to transform their venue into an intimate performance space. The cast includes Clements and fellow Co-Artistic Directors Jorge Morales Pico? and Sam Hood Adrain, with Ana Cristina Schuler as Princess Diana. Director Wednesday Sue Derrico heads up a team of international designers including Mairi MacInnes (costumes/set) and Adam Welsh (sound/video).
What Will the Neighbors Say? is a New Theatre Company based in New York City with a global perspective. WWTNS? creates theatre that examines historical, social, political and economic narratives that have been disregarded, misrepresented, or otherwise untold in order to provoke discourse in our audience and community. WWTNS? maintains a consistent commitment to diversity, arts education, community outreach, and artistic experimentation.
The Coward
Review by Sophia Heinecke
In a world where YOLO ideology is tangibly and immediately causing more harm than good, it is a necessary exercise to set FOMO aside and carefully examine what fears are really worth fearing. Maddy Campbell's new play, The Coward, does just that. Steeped in a freshly feminine vulgarity, the piece follows Willie, a cowardly servant whose brain is invaded by a 'monster', a central fantasy of the pseudo fairy tale reality in which the play takes place. Invasion of a 'monster' into one's brain is stated to be a side effect of a water supply polluted with Benzos and a kingdom where meaningful questions are not allowed to be asked, let alone answered. The monster inside Willie's brain simultaneously liberates her and causes her to lash out violently, killing the beloved and browbeaten King that she serves and really pissing off the tyrannical, gender fluid Queen Gregory, played by director Matt Phillips. What ensues is a madcap adventure through a fantastical landscape where there is no hierarchy based on race or gender, but still trauma and oppression run rampant.
Queen Gregory's trade marked True Happiness™, an unseen substance that all the people of the kingdom simultaneously fear and crave, emphasizes that pain leads to happiness, that buying people things means you love them, and the only real truth is "skip dinner, wake up thinner". There's much at stake for Willie, a dour fear filled maid, but the monster inside her has a delightful sense of humor that lightens the tone of the play without compromising the plot or detracting from the thoughtful commentary on feel good, do nothing Instagram culture . Maddy Campbell's endless physicality elevates the play who's foundation is laid by her excellent writing and decorated with a great supporting cast, notably Scottish heart throb James Clements as Oskar, Queen Gregory's simpleton bodyguard.
The production has a purposeful DIY quality that never feels haphazard and leaves the cast delightfully exposed. There's an interesting reinvention of household goods and dollar store trinkets as fantastical implements and hilarious weapons. This is one of the many creative production techniques encouraged by Wednesday Sue Derrico, lead producer and founding member of feminist art collective Experimental Bitch Presents (EBP). The presentation and production as a whole feels nothing but collaborative, a feature of many works put on by EBP who tout themselves as an "inclusive community that celebrates, and represents artists from all mediums who reflect the diversity of Mother Earth, as it relates to race, ethnicity, gender, religion, sexual orientation, socio-economic class and physical ability."
Furiously paced and inventively staged, The Coward leaves you questioning both the structure of theater as an industry and society as a whole. Boldly provocative material, produced inventively on a low budget, with a 15 dollar ticket price is about as close to a New York Theater audience is going to get to True Happiness™.
The Coward went on to the NYC Fringe Festival Summer 2016.
The Coward Premiered at the WOW Theater Café April 30th, at 8pm, and May 1st, at 3pm and 8pm.
________________________________________________________________________________________________________
Check out our feature in the Creator's Project from Vice!
Review by Julia Lourie
Village Voice Feature, Things to do in NYC!